Introduction

Glasses laser cutting machine can cut any design pattern on the board, with high speed and high precision. It can be formed in one time without subsequent processing. It is ten times faster than wire cutting, greatly improving processing efficiency, visually discharging, and closely fitting. , saving materials. Advanced technology can increase your company's new product development speed, and recover your equipment investment cost as soon as possible. A multi-purpose machine can not only meet the cutting requirements of customers for flat plates, but also meet the cutting of tube round and special-shaped materials (square steel, flat iron, channel steel, square tube).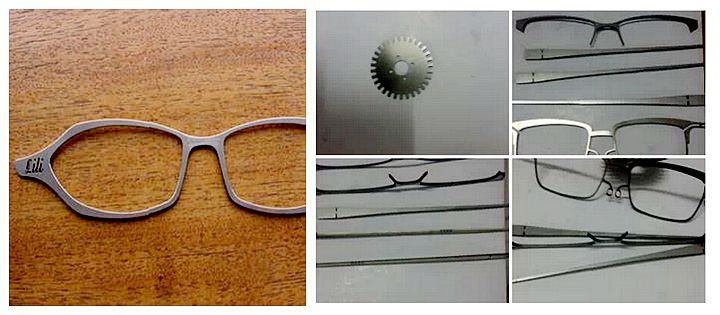 Advantage
1, can cut a variety of graphics on the flat sheet.
2, high precision, fast speed, narrow slit, minimum heat affected zone, smooth cutting surface without burrs.
3. The laser cutting head will not touch the surface of the material and will not scratch the workpiece.
4. The slit is narrow, the heat affected zone is small, the local deformation of the workpiece is very small, and there is no mechanical deformation.
5, the processing flexibility is good, you can process any graphics, you can also cut pipes and other shaped materials.
6. It can be used for non-deformable cutting of any hardness material such as steel plate, stainless steel, aluminum alloy plate and hard alloy.
7. Optional visual positioning system for precise cutting of specific plates such as corroded printing.
Machinable material
Carbon steel, stainless steel, aluminum alloy, carbon steel, copper, silver, gold, titanium and other metal cutting.

Applicable industry
Widely used in sheet metal processing, advertising sign production, mechanical parts, kitchen utensils, metal crafts, saw blades, glasses industry, spring sheets, hardware and other industries.
Technical parameter
laser cutting machine for glasses
Laser wavelength 1070nm
Maximum output power 500W
Effective cutting range 600mm×350mm
Cutting thickness less than 2mm
Pipe cutting length range less than 3000mm
Cutting speed ≤10000mm/min
Workbench positioning accuracy ≤0.05mm
Workbench repeat positioning accuracy ≤±0.01mm
electricity demand AC220V ± 5%/ 50Hz
Machine power consumption ≤3.5KW
Dimensions 1500mm*1600mm*2000mm