Fiber laser marking sample display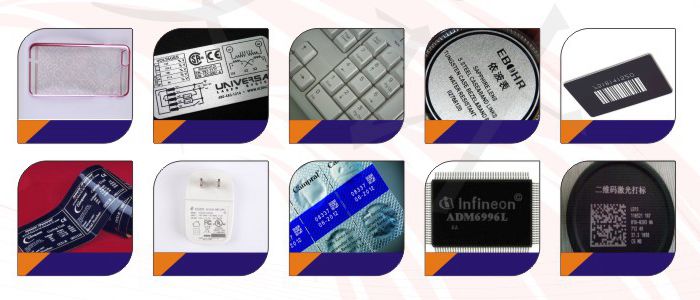 Laser details
Laser marking machine type: integrated fiber laser printer
Rated laser output: (0W (optional 20W, 30W, 50W, 100W)
Laser tube average life: 100,000 hours
Laser tube warranty: 2 years
Laser wavelength: 1064nm
Performance
Production speed: 20~250 m/min (depending on the standard code and substrate)
Number of marked lines: Unrestricted, (does not exceed the size of the marked area)
Character height: up to the marked area size Print rotation: 0-360°
Print content: various variable information (such as date, time, shift, etc.), trademark, graphics, serial number, barcode, etc., can be multi-national fonts, and even import project files directly into the machine for printing.
Coding ability: static, dynamic coding
Input device: TF card, USB port
Physical characteristics
Material: anodized aluminum chassis
Focus adjustment column: (optional, standard not included)
Focal length adjustment stroke: 200-500mm (standard does not include)
Weight: marking unit / power supply unit 15 kg / 12 kg
Cable length: 3 m (standard), 5 m (optional)
Protection level: IP54
Cooling method: air cooling
Power demand: 220V / single phase / 50Hz / <400W
Laser head mounting options: down (90°), or flat (0°), 360°
Conveyor speed detector: ZSP1000/5V
Product inspection probe: NPN / PNP / 24V detector
Optional: focal length adjustment column, soot purifier
Coding and programming functions
Marking options: date, time, static text, variable text, serial number, shift code, increment/decrement (batch), ID matrix, barcode, graphic and logo, Julian day, custom date and time format
Vector fonts for standard systems: OTF, TTF, PFA, PFB, SVG fonts, built-in multiple laser-marked fonts, customizable fonts, added security features
Available in defined fonts: Arabic, Bengali, Chinese, Japanese, Russian, Thai, Vietnamese
Barcodes: BC25, BC25I, BC39, BC39E, BC93, EAN 8, EAN 13, BC128, EAN 128, Postnet, SCC14, UPC_A, UPC_E, RSS14TR, RSS14ST, RSS14STO, RSSLIM, RSSEXP
Two-dimensional data matrix code: ECC000, ECC050, ECC080, ECC100, ECC140, ECC200, ECC PLAIN, QR
Support font: Support all available fonts under Windows system,
Environmental requirements
Working environment: Temperature 5 to 40 °C (70% duty cycle at maximum temperature)
Automatic detection of overheating: Yes
Storage temperature: -10 to 70 °C Humidity range: 10% to 90% (relative humidity, no condensation)
Application advantages of fiber laser marker
1. Using the third-generation optical fiber solid-state laser, the electro-optical conversion efficiency of the pump light source is up to 80% through fiber coupling, the beam quality is higher, the life is longer, and the laser life can reach 100,000 hours.
2, the perfect beam quality has achieved ultra-high-fine marking effect, especially suitable for anti-white, matte, color and other effects on metal products such as stainless steel.
3, full air-cooled, no consumables, maintenance-free, energy-saving and energy-saving, low-cost use in the later period.
4, using the most advanced marking control system, the software is very powerful.
Fiber laser marking machine application industry:
Metal parts manufacturing, auto parts, digital products parts, communication products, sanitary ware, electronic components, building materials, electrical appliances, jewelry, precision machinery, glasses and clocks, hardware and crafts, plastic buttons, medical equipment and other related products Marking process. More suitable for product marking process for accuracy, speed and depth requirements.