Laser marking sample display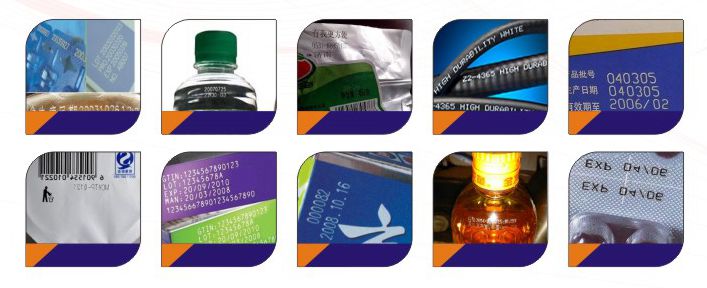 Laser details

Laser type: closed RF "carbon dioxide"
Rated laser output: (10.6μm) 10W (optional 20W, 30W, 50W)
Average life of laser tube: 4,5000 hours Laser tube warranty: 2 years
Laser wavelength: 10.6μm (standard) or 9.3μm (PET) or 10.2μm
Performance
Production line speed: 20~250 m/min (depending on the standard code and substrate)
Number of marked lines: Unrestricted, (does not exceed the size of the marked area)
Character height: up to the size of the marked area
Rotation angle: 0-360°
Print content: various variable information (such as date, time, shift, etc.), trademark, graphics, serial number, barcode, etc., can be multi-national fonts, and even import project files directly into the machine for printing.
Coding ability: static, dynamic coding
Input device: TF card, USB port
co2 laser marking machine P3000 Physical characteristics
Material: anodized aluminum chassis
Focus adjustment column: (optional, standard not included)
Focal length adjustment stroke: 200-500mm (standard does not include)
Weight: marking unit / power supply unit 15 kg / 12 kg
Cable length: 3 m (standard), 5 m (optional)
Protection level: IP54
Cooling method: air cooling
Power demand: 220V / single phase / 50Hz / <400W
Laser head mounting options: down (90°), or flat (0°), 360°
Conveyor speed detector: ZSP1000/5V
Product inspection probe: NPN / PNP / 24V detector
Optional: focal length adjustment column, soot purifier
Coding and programming functions
Marking options: date, time, static text, variable text, serial number, shift code, increment/decrement (batch), ID matrix, barcode, graphic and logo, Julian day, custom date and time format
Vector fonts for standard systems: OTF, TTF, PFA, PFB, SVG fonts, built-in multiple laser-marked fonts, customizable fonts, added security features
Available in defined fonts: Arabic, Bengali, Chinese, Japanese, Russian, Thai, Vietnamese
Barcodes: BC25, BC25I, BC39, BC39E, BC93, EAN 8, EAN 13, BC128, EAN 128, Postnet, SCC14, UPC_A, UPC_E, RSS14TR, RSS14ST, RSS14STO, RSSLIM, RSSEXP
Two-dimensional data matrix code: ECC000, ECC050, ECC080, ECC100, ECC140, ECC200, ECC PLAIN, QR
Support font: Support all available fonts under Windows system,
Environmental details
Working environment: Temperature 5 to 40 °C (70% duty cycle at maximum temperature)
Automatic detection of overheating: Yes
Storage temperature: -10 to 70 °C Humidity range: 10% to 90% (relative humidity, no condensation)
Device Application Reference:
Widely used in pharmaceutical, tobacco monopoly, brewing, food and beverage, household chemicals, electronics, card making and other industries, suitable for high-speed printing of Chinese characters on various types of paper, plastic, wood, peritoneal metal, glass, ceramics, etc. English, numbers, batch numbers, dates, LOGO icons, anti-counterfeiting digital, etc.