Mode:FLS-0010
Name: Handheld laser marking machine
Power:10W/30W
Weight:23kg
Power requirement:220V/2-PHASE/50Hz/<700W
Mark range:70x70mm、110x110mm、150x150mm、200x200mm
Coding ability: static, dynamic laser marking
User interface: embedded touch screen (standard) / external touch screen
External interface: USB
Environmental conditions: external temperature 10 ° C ~ 38 ° C, humidity up to 90% RH no condensation, no vibration.
Cooling method: air cooling;
Machine size: 750mmx176mmx208mm
Machine features: high-speed coding, the fastest production line can meet 230 meters / minute;

product manual:
The core components of the laser marking machine are main vibration power amplification (MOPA), Q modulation and high-heavy frequency pulsed erbium-doped fiber lasers. The high-reliability DC power supply drives multimode semiconductor lasers under the control of dedicated control cards. Multimode semiconductors The 970±10 nm laser from the laser is coupled into a metal-sheathed 5 mm transmission fiber to produce a 1.06 micron wavelength laser in the erbium-doped double-clad fiber. The laser is amplified and then expanded. The expanded laser beam is projected onto the galvanometer scanner, and the galvanometer is rapidly rotated and the laser is switched by the computer to scan the laser beam in the X and Y directions, and the F-θ lens is used to form a spot of several micrometer diameter. The workpiece is machined, the surface is ablated instantaneously, vaporized, and finally various graphic symbols are formed on the surface of the workpiece.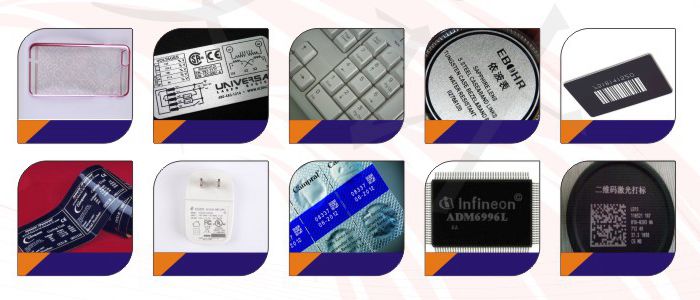 Feature
1. Excellent beam quality: The beam quality of the FLS-FB series fiber laser marking machine is better than that of the traditional solid-state laser marking machine. It is the output of the fundamental mode (TEMOO), the spot diameter is 10um, and the divergence angle is 1 /4 of the semiconductor pump laser. . Especially suitable for precision and fine marking.

2, the use of low cost: electro-optical conversion efficiency up to 30%, the whole machine consumes less than 500W, is 1/10 of the lamp-pumped solid-state laser marking machine, greatly saving energy consumption.
3, maintenance-free operation: the laser does not require any maintenance, and does not need to adjust or clean the lens.
4, long service life: the use of laser diodes as a pump source, the average working time can reach 100,000 hours
5, processing speed: processing speed is 2-3 times that of traditional laser marking machine.

Application field
Electrical and electrical appliances, electronic communications, automobile and motorcycle accessories, precision hardware, gift jewelry, glasses and clocks, instrumentation and sanitary ware, etc., are not suitable for high-reflection materials.

Suitable material
Suitable for stainless steel, aluminum, copper, alloy, ABS, PVC, epoxy resin, silicon wafer, electronic components, package insulation, automotive instrumentation, buttons, and other hardware and some non-metallic materials.